After Summer we'll organize the 3rd origin chocolate dinner, after two successful first editions.
The second origin chocolate dinner (19th of May) included the following dishes:
– Tiradito (Peruvian fish receipt) with yellow chili and white chocolate dressing
– Asparagus with chocolate dressing
– Cold Cucumbersoup with chocolate nibs
– Lamb with lavender-white chocolate sauce
– Tasting of Chocolate-Cheese-Vermouth
– Profiteroles with origin chocolate sauce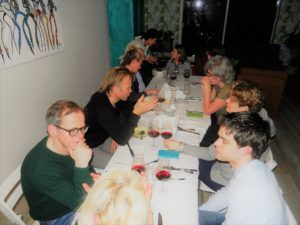 The owner of the Cacaomuseum is a professional cook, specialized in cacao and chocolate receipts. For Chocolate pastry, we work closely together with Suspiros Amsterdam. Furthermore we sell bars of origin chocolate. We prepare chocolate dinners, pastry and snacks for all kind of events, and we can be contacted for catering and delivery.