Our next event is Friday the 25th of May, 18.30-20.30. "Meet the Maker" Mark Schimmel from Krak.
"Every real chocolate lover in the Netherlands knows or should know Mark Schimmel, the owner of Krak. All his fine flavor bars are real adventures. His Guatemala, Colombia, Madagaskar, Papua, Philippines, and Vietnam bars are of the highest quality. And we are very curious on what will be the difference between his three Mexican Soconusco bars: 4,5, 5, and 5,5 days fermented. Come, see, listen, ask and taste!! Entrance 5 Euros."
Thursday, the 14th of June 10.30 am, we organize a tasting of chocolates from Venezuela.
Around each 1st Friday of the month we organize a tasting and each 3rd Friday we organize a "Meet the maker", a pairing or a chocolate dinner.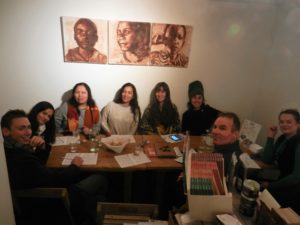 Furthermore, we organize the Origin Chocolate Evenings, workshops and tastings, and we participate in the organization of other events with the same aim, for example the Chocoladekaravaan and the Origin Chocolate Event. We also can be contacted for other activities such as:
Chocolate music: Winand Bijlmakers and Laura Reiman
Storytelling: Francesco Melita
Chocolate painting: Laura Reiman